FREE Fun Shore Dives 
(For all level of divers - most offered in the Puget Sound general area, WA) 

If you would like an area orientation/discover local diving dive(s) & have one of our staff dive with you on the fun shore dive (if you have not been diving for awhile or have not been oriented to our temperature or diving conditions before) we will be offering these on some of our fun shore dives for an additional cost (pre-arrangements must be made in advance). For those wishing to refresh there skills we do offer a scuba review program in a pool setting Tuesday or Sunday evenings, advance notice needed.

Sign-up required if you plan to participate in the shore dives.
                         

Dates offered are - Saturdays:  April 14  &  June 16  &  October 6  
FUN SHORE DIVES:
We offer dives where divers get together to enjoy diving, meeting new dive buddies, dive new dive sites and have a great time being underwater, must already be oriented to Northwest water temperatures and recent diving experience within 1 year. No cost just a group of divers getting together to have lots of fun. No need to bring a dive buddy for all level of divers.
---
Bandito Charter Boat Dive (Puget Sound - Tacoma, WA)                                                                     

Cost $90 per diver for 2 dives & light lunch (payment required to hold a spot on the roster) 
Dates offered are - Sundays: April 15  &  June 17 &  August 12  &  October 7              BANDITO CHARTER BOAT DIVES - Tacoma, WA:
If you are looking for an unforgettable fun scuba diving experience then come with us on one of our charter boat trips, must already be oriented to Northwest water temperatures and recent diving experience within 1 year.  We will be diving the Puget Sound - Washington area. This location can offer a variety of aquatic underwater life, you will have a good chance to see wolf eel, octopus and more.
For those wishing to refresh there skills we do offer a scuba review program Sunday or Tuesday evenings in a pool setting, advance notice needed. For those wanting to get oriented to Northwest water conditions or reoriented back to diving here consider a Discover Local Diving on possibly one of our fun dives, many times these fun dives are offered on Saturday the day before the boat dive.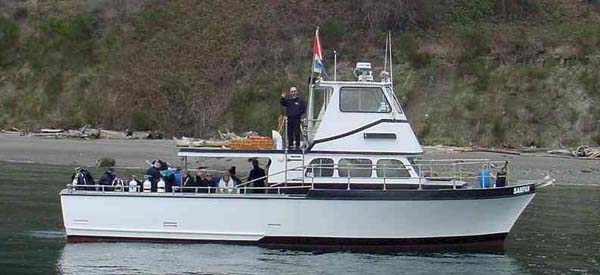 ---
Oregon Coast Fun Shore Dive Date:  Saturdays &/or Sundays -  Netarts Bay: Date TBD  according to weather and tides
OREGON COAST SHORE DIVES:
Due to weather conditions can change quickly, tides can not be exact and boat traffic may be present. NOTE: These dives are for all level of divers, must be already oriented to our water temperatures, recent diving within 1 year and  comfortable in their diving ability.  No cost just a group of divers getting together to have lots of fun. No need to bring a dive buddy there will be other divers looking for buddy.
If you're wanting to dive the Oregon Coast with us then please let us know by adding yourself to the OREGON COAST interested email list.  email laurie@pacificwatersports.com First Name - Last Name - Certification level (example: open water, advance, ect) put in subject area Oregon Coast.
  Grand Cayman  Saturday November 3 – Saturday November 10, 2018
Everything you have dreamed for a Caribbean Dive Vacation is here!   From palm trees to an amazing reefs right off shore with great diving and snorkeling; from 6 custom dive boats, to a famous underwater photographer; from amazing Caribbean concoctions, to tropical dishes; they all await you!   And combined with warm Caymanian hospitality, you'll wonder why you waited so long to visit this West Indian oasis, or why you haven't come back sooner.   Of course, the Caymans and Sunset House are a diver's paradise, with crystal-clear waters awaiting your arrival.
     Come to Sunset House with us and experience now, what others have seen for over the last 50 years.   An underwater photographer's perfect dive.   Shipwrecks, curious big eels, cuddly stingrays and a legendary mermaid await you just steps from your room!  Diver's of all levels are welcome.        
So come join us in this FUN filled tropical adventure.
 TRIP PACKAGE INCLUDES:                                                       
Ocean View Room;  8 days/7 nights,  5 days of diving, 2 boat dives per day, unlimited shore dives, scuba tanks,  weights, dive gear locker, (Bonus: FREE NITROX for certified Nitrox divers) welcome drink, souvenir gift, daily breakfast, taxi transfers from and to the airport, taxes and service charges.  You'll make your own travel arrangements (best to fly in early afternoon if possible) and we'll meet you at the resort on November 3.   You will dive November 4—November 8.  We'll check out the 10 and return home.  
EXTRA BONUSES: with minimum 16 divers:  * Pizza party   * Island Tour  ** USS Kittiwake—dive wreck ** Stingray City     **weather permitting and as part of a 2-tank boat trip
Join us for a no host event at a local restaurant to meet fellow travelers and go over important details of the trip September 13.
Diver package is $1399, Non-Divers are $999 (based on double occupancy) Limited space available.   If you come in as single we will put you in a room with another single at double occupancy price, if possible otherwise single rate applies (single rate add $425).  A $300 non-refundable deposit reserves your spot.  Full payment due by August 17, 2018.  Fees are refundable (minus $300 deposit) if canceled by August 17, 2018, No refunds after this date. 
Not included; tips to hotel or dive staff, meals (except breakfast) and airfare.
Your Pacific Watersports trip coordinator will be Laurie Hannula. 
---
---
---
Sign up at:  Pacific Watersports for all dive adventures 
503-642-3483/DIVE                            17128 SW Shaw St,  Aloha, OR 97078