PADI Deep Diver course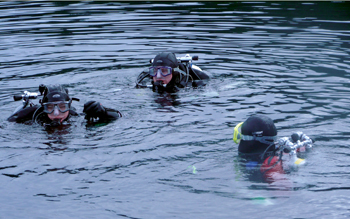 It's a rare diver who hasn't felt the urge to dive deep. Divers tend to be adventurous people and dive deep - whether to visit a wreck, take photos or just explore what's down there. It's only natural that most divers have some interest in deep diving. Sometimes the depth lures us simply just because it is there.
Do you know what is considered a deep dive?
This is any dive over 60 feet to an absolute maximum of 130 feet. Any body can do a deep dive but have you learned to do them properly and safely. This is your opportunity to also experience this under supervision of a trained PADI professional instructor.
You will learn about:
Equipment for Deep Diving: Your personal equipment, special deep diving equipment, surface support stations, using dive computers.

Maintaining Buddy Contact, Neutral Buoyancy for Deep Dives

Controlling Descents and Ascents and Estimating Ascent Rate.

Breathing Techniques and Air Supply Control

Safety Stops and Emergency Decompression
There will be even more subjects covered, you will be a much better and experienced diver once you complete this course.
What do I need to start?
PADI Advanced Open Water Diver (or qualifying certification from another organization)

Minimum age: 15 years old

Call to reserve a spot (503) 642-3483

Register at Pacific Watersports

This course will include one classroom session, two days of diving (four dives), PADI Deep Diver eLearning and PADI Deep Diver specialty certification (with completion of course). Once completed you will then be one-step closer working towards being a PADI Master Scuba Diver.
You can request a more detail brochure by sending us an e-mail at
info@pacificwatersports.com
, just let us know which course you are interested in and we will send it to you in a pdf file.