Want to try SCUBA diving?
If you answered yes then come an experience the underwater world with us.
PADI Discover Scuba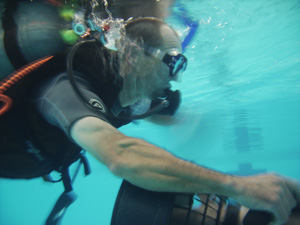 Discover Scuba is a chance to experience for the first time the pleasures of Scuba Diving in the weightless Underwater World. SCUBA stands for Self-Contained Underwater Breathing Apparatus.
What do we do?
Everything is kept simple.  You are first given an introduction to breathing underwater, equipment and signals.  Next in the pool we go through a few simple fundamentals of diving, then it's playtime.  You will find yourself gliding through the water effortlessly and feeling like a fish.  An staff member will be with you at all times so you will enjoy the experience.
What about my ears?
Lots of people think their ears will be a problem. This usually comes from the past experiences of trying to swim to the bottom of the swimming pool without knowing how to properly equalize.  Equalization is not difficult, we will teach you how and it's much easier to do using Scuba than with snorkel equipment.
When can I try SCUBA & What do I need?
Minimum age: 10

Read & review Discover Scuba Diving brochure (Review Discover Scuba Release & Medical Questionnaire)

Bring bathing suit and towel

About 60 minutes of your time

Call to schedule a session (503) 642-3483/DIVE - (offer Tuesday or Sunday evenings - 2 weeks advance notice please)
Once you participate in a Discover Scuba Diving program, you will discover excitement, adventure, freedom and serenity. Nothing compares to the "weightless" exhilaration of breathing underwater. Only a diver knows the feeling! You should consider taking our PADI Open Water Diver Course, now you can dive world wide.
How do I start & what is the cost?
After scheduling a session, you will need to stop by Pacific Watersports to pick up your participant guide book, pay for the program - cost is $74.95 per person (Bring a Friend and save....cost is $49.95 per person) to experience the underwater world. This will include the Discover Scuba Participant Guide Book, Intro to scuba diving, Use of all the gear needed and a new adventure. 
When & Where:
We offer these on Sunday or Tuesday evenings all year round.  Just give us a call to schedule a session, please give 2 weeks advance notice (503) 642-3483. 
We offer our Discover Scuba at the Forest Grove Aquatic Center - 2300 Sunset, Forest Grove, OR (located behind the Pacific University)
Click HERE to download & review Discover Scuba Release & Medical Questionnaire - PDF format.

After reviewing the Discover Scuba Release & Medical Questionnaire, if a doctors release is required before participation you will need to download this Divers Medical Questionnaire, fill out completely & a have physician sign/date  (no other form will be accepted) - download form HERE
Cancellation/Transfer Policy: requires minimum 48 hours notice for refund, cancellation fee of $15 per participant, less than 48 hours no refund.  All fee's will be transferred with minimum 48 hours notice.