Are you planning on a dive adventure soon and it has been several months sense you've been diving or completed your dive training.
Are you new to diving the Northwest and would like to Discover our Local Diving.
If either one of these apply then you should consider some of the options listed below.
Independent Study: Using the PADI SCUBA TUNE-UP BOOK.
Confined Water Review: Pool session with basic scuba skills reviewed.
Discover Local Diving: Open Water Dive(s).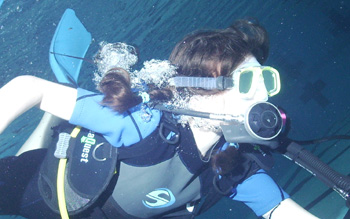 Part One: Independent Study: The first step in reviewing your diving skills and knowledge is accomplished with the PADI Scuba Tune-Up Book. This independent self-directed program can be conducted at your convenience and will refresh your diving knowledge in the area of dive tables, and their use, dive planning, safe diving practices, proper buoyancy control, proper weighting and more.... Open Water Diver DVDs is also a great way to refresh your diving knowledge and skills. You can purchase the Scuba Tune-up book at our facility, it has extra handouts that go along with the book. (DVD has an option to rent).
Scuba Tune-Up Book is $29.50 
Part One required before Part Two
Part Two: Confined Water Review:

For those desiring water skills practice this review consists of up to two hours of training in a pool. Before entering the pool we will answer any questions you may have from your

PADI Scuba Tune-Up Book

. During the pool session you will be assisted and coached in your scuba skills by one of our trained professional staff. We will be reviewing scuba skills such as: buoyancy control, controlled emergency ascent, alternate air source use, mask clearing, equalization techniques, ascents and more! We will also be available to answer questions for you as well, assuring that you truly enjoy your next diving adventure. All equipment for the pool session is provided, highly recommend having your own personal mask and snorkel (we have a wide selection).                                                                                                      

NOTE:

Download the Divers Medical Questionnaire to pre-view in advance and if

any questions

are answered with a

Yes

(each question must be answered & filled in with a YES or NO), for your own safety you will be required to obtain a Doctors approval using this form before any confined water training can be conducted.  Download form

HERE

.                                                                                                                                           

When:

 We offer this program on Sunday or Tuesday evenings, call to schedule a session, please give two weeks advance notice (Must present divers certification card)....Price includes; equipment use, confined water session, scuba review decal for your certification card with completion of Scuba Tune-Up Book and confined water session.  (approx. total time 3 hours)                          (2 weeks advance notice for scheduling a review, if possible)
Cost is $80.00 per person (Bring a Buddy and save...Cost is $65.00 per person)
If you want a Private Review - One on One:  $100.00
Part Three: Open Water Orientation Dive/Discover Local Diving: This consists of you making an open water dive with one of our trained professional staff at an open water dive site. There will be no scuba skills reviewed but we will cover practical applications of basic diving knowledge. This will include: proper dive planning, buoyancy control, weighting, dive buddy communications, entry and exit techniques and more! This orientation dive will be conducted during one of our open water certification weekends or some may be offered on our free fun shore dives. This is great for people who have never dove in the Northwest before or wish to re-orient them self to Northwest diving. BONUS: You will receive reduced rates on rental of equipment. (Must present diver certification card)
 Cost is $40.00 per person 
(Bring a buddy and save...cost is $30.00 per person)
If you are wanting additional dives $25.00 per dive, per person.
You may take part 1, part 2 (requires PADI Scuba Tune-Up Book - part 1) or part 3 or you may choose all three of these programs depending on your needs.. This is a great way to keep your diving enjoyable, fun and safe.
Call us here at Pacific Watersports if you would like to schedule a confined water review or an orientation dive, ask for Laurie (503) 642-3483