PADI Snorkeling course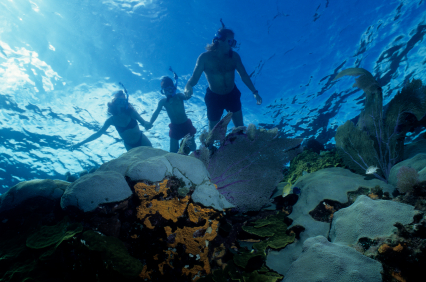 Are you planning a vacation to a warm water destination and would like to explore the beautiful underwater world then learn to snorkel. Snorkeling will allow you to visit the underwater world for a short period of time and see the colorful attractions of the tropical aquatic paradise.
Snorkeling is easy and fun, especially if you learn to do it properly. It is not necessary to be an expert swimmer. Snorkeling is one of the few sports that can be enjoyed on an equal basis by all members of the family. If you are in good health and can swim, you can snorkel; however, the more at home you feel in the water, the easier it will be to learn snorkeling techniques.
So Come Join Us on an Adventure with Snorkeling.
What do I need to start?:
Bathing Suit & Towel (we will provide basic snorkeling gear)                                                                           We recommend to have your own personal snorkeling gear, we can help you with selection for proper fit, if you decide to purchase your own, we stock quality gear and offer packages.

Minimum age: 8 years old

Call Pacific Watersports to schedule a date 503-642-3483 - offered Tuesday or Sunday evenings, 2 weeks advance notice please.
Course Includes:
The use of basic snorkeling gear
Proper surface resting & swimming
Snorkel clearing
Proper fin kick
Surface dives & underwater swimming
Equalization techniques
Proper descents & ascents
Safety in the water
1 1/2 hours of instruction
Course Cost: $60 per person (Bring a Friend and save....cost is $35.00 per person)  offered Tuesday and Sunday evenings, call to schedule a session, please give us 2 weeks advance notice please.