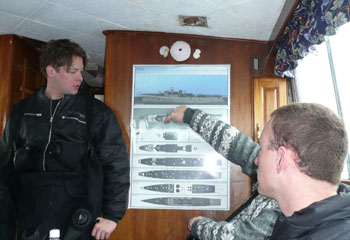 Have you ever wanted to dive a shipwreck???
Divers have different reasons for being interested in wreck diving. 
CURIOSITY - Divers are fascinated by wrecks and want to know what is inside them.
HISTORY - Some divers like to research and understand the historical prospective of the wreck.
AQUATIC LIFE - Wrecks become man-made reefs that attract lots of aquatic life.
PHOTOGRAHY - Wrecks make dramatic backgrounds for photos of divers and aquatic life.
Then again you may have your own reason for diving on wrecks.
The most important part about diving wrecks especially if you plan to explore what's inside, you need to have special training. This special training will allow you to do it properly, safely and have fun while wreck diving.
You will learn about:
Wreck diving and the law; salvage laws, antiquity protection laws and more...

Wreck Diving hazards; sharp objects, entanglement, unstable structure and more...

Wreck diving techniques: evaluating a wreck, depth considerations, navigating a wreck, wreck diving in a current and more....
What do I need to start?
PADI Advanced Open Water Diver (or qualifying certification from another organization)

Minimum age: 15 years old

Call to reserve a sport (503) 642-3483/DIVE

Register at Pacific Watersports, receive your PADI Wreck Diver manual and start learning NOW.

This course will include one classroom session, two days of diving (four dives), charter boat fee, lunch on the boat, tank refills, lodging, PADI Wreck Diver manual and PADI specialty certification. Once completed you will then be one-step closer working towards being a PADI Master Scuba Diver.
You can request a more detail brochure by sending us an e-mail at
info@pacificwatersports.com
, just let us know which course you are interested in and we will send it to you in a pdf file.