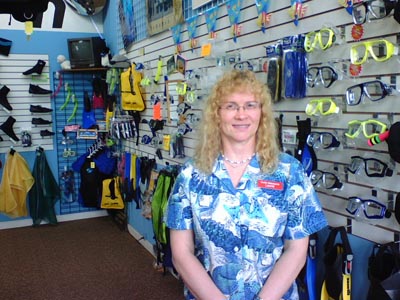 We are committed to helping you!
As a Pacific Watersports customer- whether it is for equipment purchases, service and instruction you become a very important part of our business.
OUR MISSION: Let us help you get what works best for you, No High Pressure, just good honest sales, service and instruction.
Equipment Purchases: Many times people go to the Internet for information and purchases not knowing that we give equal to or better prices on equipment and information with manufacture warrantees. Just because you are purchasing a major brand from the Internet does not mean you have warrantees. And, when you don't purchase major brands it is very difficult to have it serviced or find parts. We have package specials that can be customized to your personal needs. We deal with our customers on a personal basis, when we talk to you our customer we want to make sure you're happy! This way you will come back again and again, bringing friends and family members with you as well to be your dive buddies.
Good quality equipment is very important! It requires a trained, on site professional to fit, explain proper use, care and show all features it has. Remember, this equipment is life support! This is an equipment intensive sport, it is very fun and safe! Would you have somebody you don't know pack a parachute, then have him or her ship it to you? How do you know, how well they are trained and did they do it correct? We know for a fact that divers who make the commitment in this sport by purchasing their own personal equipment will be a safer diver and will have more fun. Why is this? You become more familiar with your equipment, you are not using something different every time you dive and you know how it's been treated. You will be more comfortable underwater, on the surface and have a lot more fun!
Service: We have a Full Service Repair Facility that can help you with all your equipment needs. We always strive to make sure our customers are satisfied with the service that they receive.
Instruction: Local Oregon or Washington salt water sites are used for most of the open water training we do. Our staff is available for 1 on 1 guided experiences to any of the North West's superlative dive locations.
Information: Our staff has a wealth of experience and can support you as a new scuba diver or one who is into the technical realms. There are few sites locally or in Canada, that we haven't dived as a staff and we're able to give you first hand reports.
Fun: Our dive center and it's staff lead fun dives; single day charters; and multi-day charters in the North West; Canada and International warm water locations.
Stop by and introduce yourself, join the Pacific Watersports family!