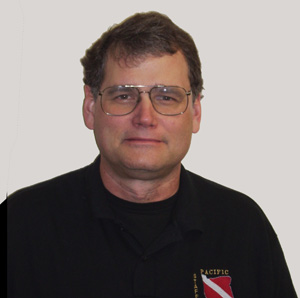 I enjoy both tropical and Northwest diving.  I like Northwest diving (particularly, in BC, Canada) most of all, but the ease of tropical diving and the warm weather topside attractions are great fun as well.  My other diving activities include serving as a volunteer diver at both the Oregon Zoo and the Oregon Coast Aquarium.  My certification level is PADI MSDT (Master Scuba Diver Trainer), with instructor specialties in Altitude, Boat, Deep, Drift, Dry Suit, Night, Enriched Air Nitrox, Wreck diving and have logged over 800 dives.  In addition to recreational diving, I also enjoy technical diving, with certifications in mixed gas diving and technical wreck diving.
My first dive was in 2000, in Key West, Florida, I did a PADI Discover Scuba experience and I was hooked!  After classroom and pool training sessions with a Portland instructor I went back to Florida to completed my certification as a PADI Open Water diver in May 2001.  I tried cold water diving immediately after getting certified in warm water and was not prepared for Northwest diving.  I did not have a great experience so I didn't attempt diving again at all for several years. Then, I met Laurie at Pacific Watersports and did an area orientation to Northwest diving with one of her staff at Les Davis Park in Tacoma.  I had a fabulous time, bought gear from Pacific Watersports, started diving like crazy (both here in the Northwest and in the tropics) and I have never looked back!
I hope that my own history will encourage you to complete your training here even if you only intend to dive exclusively in warm water. You will be much better prepared than those who only dive in the tropics and you should be able to relax and enjoy your experience that much more! Had I taken this route, my own career would probably have been uninterrupted since 2000, and there's no telling how many dives I could have accumulated by now!