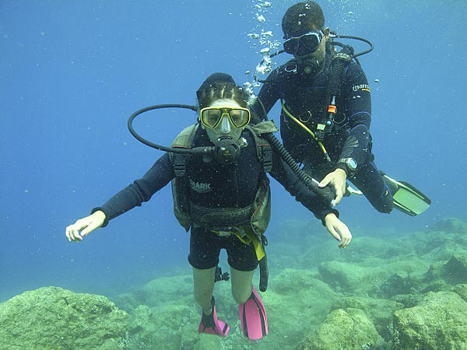 This is the same program as the PADI Discover Scuba Diving program with a few modifications especially for kids 10 to 12. Your kid will experience the thrill of diving under the direct supervision of a PADI Professional, One-on-One, in ideal open water conditions. Pacific Watersports requires the completion on The Seal Team Program to participate in this adventure.
What do I need to start?:
When you participate in a Discover Scuba Diving program, you discover excitement and adventure - freedom and serenity. Nothing compares to the "weightless" exhilaration of breathing underwater. Only a diver knows the feeling! As soon as you Discover Scuba Diving, you're on your way to an internationally recognized certification. That's because you may learn skills used in the PADI Open Water Diver course during your Discover Scuba Diving adventure. If you and your instructor elect to practice these skills, they may be credited toward the PADI Scuba Diver or Open Water Diver certifications.
Click HERE to download Information Sheet in PDF format.