PADI Scuba Experiences for Kids
(8 to 12 years old)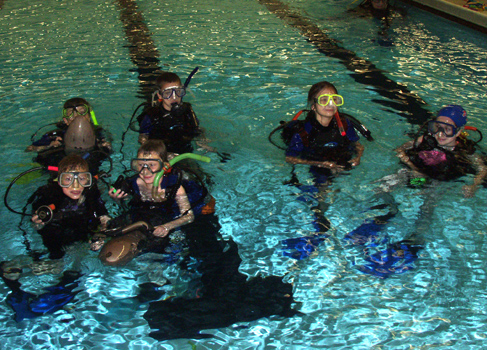 Don't worry...
Pacific Watersports hasn't forgotten about kids. We believe our kids are the divers of the future and have provided a structured program that lets children develop skills, learn about the aquatic environment and have a lot of good, clean fun. This is also an excellent way to introduce kids to SCUBA diving prior to full Open Water Diver certification.
This makes a great birthday gift for kids!
Bubblemaker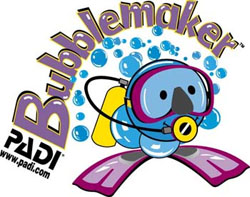 Kids - it is your turn! For young adventurers like you, the Bubblemaker program is an introduction to the thrill of breathing underwater. If you're eight to twelve years of age, now is your chance to take the plunge with a PADI Instructor and go pool diving. Whether it's a glass of milk, bubble gum or submerged beneath the surface - you can't help blowing bubbles! So try blowing bubbles our way. Start out on the right fin, jump into the PADI Bubblemaker program today!
Seal Team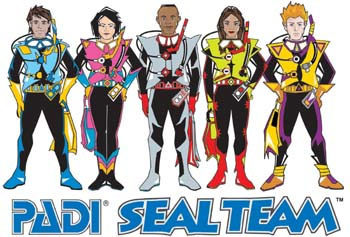 The PADI Seal Team is for young kids who are looking for an action-packed, adventurous program filled with exciting scuba "Aqua Missions." Have you ever wondered what it's like to dive with flashlights, take pictures underwater or float effortlessly like an Astronaut? If you have, this is your chance to explore these exciting adventures in a swimming pool. As a PADI Seal, you learn the basics of safe diving and explore different Aqua Missions - or specialty dives - like wreck, navigation, buoyancy, underwater photography, environmental awareness and more. Here's your chance to explore cool Aqua Missions, meet friends and share in the adventure of the underwater world. And best of all - join a winning team - become a PADI Seal Team Member!
Discover Scuba Diving for Kids

Once you discover how much you love being underwater in a comfortable pool environment you might consider diving in a lake or the Puget Sound. You will be in the direct supervision with a PADI Instructor at all times. The minimum age for this exciting adventure is ten years old.