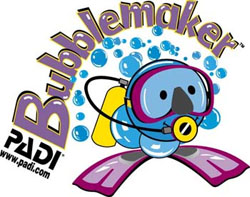 Parents consider joining your kid in the pool with Discover Scuba for only $ 30.00. Bring an underwater camera to take photos of your kid while they are blowing bubbles.
Class Break-Down
Where?
The classroom and pool sessions will be held at the Forest Grove Aquatic Center - 2300 Sunset, Forest Grove, OR (503) 359-3238 ETA from Beaverton - 25 minutes via T.V. Hwy. /from Portland - 35 minutes via Sunset Hwy. The Forest Grove Aquatic Center is located behind the Pacific University in Forest Grove. To download directions as a pdf click HERE.
When?
Our regular scheduled programs are offered Sunday evenings. If you have a group of 4 or more we can schedule a date for you, advance notice required.  To view regular scheduled program dates available click on LEARN MORE below. To view up-coming class schedule for all our courses click HERE or to view detailed store calendar click HERE
Are there any Prerequisites?
Yes, good general health and an ability to be comfortable in the water, minimum age limit of 8.  NOTE: Review Bubblemaker Statement (Medical Questionnaire) in advance at: Bubblemaker Statement, if ANY questions are answered with a Yes, you may be required to obtain a Doctors approval using only this form before (kid or parent) participating in this program: Divers Medical Questionnaire - download form HERE.