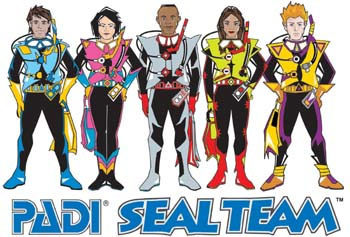 PADI Seals will learn the basics of SCUBA diving through a structure learning environment combined with extremely fun activities. This is a stimulating program which appeals to kids who crave adventure and are looking for a challenge in learning new skills. Participants will gain an appreciation for preserving the aquatic realm. This program will also give them a jump start when they are ready to participate in the PADI Jr. Open Water Diver Course.
.
Class Break-Down
What?
This program is broken down into Aqua Missions which will include Classroom and Pool time. Each session is approximately 2 hours in length. Upon successful completion of the first 5 Aqua Missions (total 3 class/pool sessions), students become a PADI Seal Team member. When a student completes an additional 10 specialty Aqua Missions, students become Master Seal Team member.
The first five Aqua Missions include:
Aqua Mission 1 - Swim underwater with scuba gear, hand signals, use gear, learn how to equalize. (session 1)

Aqua Mission 2 - Recover and clear regulator, learn how to equalize mask. (session 1)

Aqua Mission 3 - Learn how to use BCD, clear mask, and breath from octopus. (session 2)

Aqua Mission 4 - Learn how to find lost regulator, clear regulator, and become neutrally buoyant. (session 2)

Aqua Mission 5 - Scuba gear on learn how to snorkel, snorkel/regulator exchange, swim on surface. (session 3)
Specialty Aqua Missions include:
Where?
The classroom and pool sessions will be held at the Forest Grove Aquatic Center - 2300 Sunset, Forest Grove, OR (503) 359-3238 ETA from Beaverton - 25 minutes via T.V. Hwy. /from Portland - 35 minutes via Sunset Hwy. The Forest Grove Aquatic Center is located behind the Pacific University in Forest Grove. To download directions as a pdf click HERE.
When?
Pacific Watersports offers our group programs Sunday evenings starting at 5:30pm. We offer private group programs Tuesday evenings as well. If you have a group of 4 or more we can run a Seal Team private class on different dates Tuesday or Sunday evenings. To view dates available click on LEARN MORE below. To view up-coming class schedule for all our courses click HERE or to view detailed store calendar click HERE
Are there any Prerequisites?
Yes, good general health (medical questionnaire should be reviewed in advance) and an ability to be comfortable in the water, minimum age limit of 8.  NOTE: Review Seal Team Statement (Medical Questionnaire) in advance at: Seal Team Statement, if ANY questions are answered with a Yes, you may be required to obtain a Doctors approval using only this form before (kid or parent) participating in this program: Divers Medical Questionnaire - download form HERE 
What are the Costs?
Our Seal Team program (Includes 5 Aqua Missions - 3 sessions total: approx. 2 hours each) costs a total of $199.00 this includes: your own personal Seal Team student kit (Aqua Mission Activity Book with Logbook, Aqua Mission DVD, Seal Team sticker, Certificate Completion and Seal Team Membership Card upon completion) and use of pool training scuba equipment. You must furnish: mask, fins, snorkel, and Shorty Wetsuit quality for SCUBA use (Savings certificate offered if purchased from Pacific Watersports).
Each additional Specialty Aqua Mission is $50 per mission.
Parents consider joining your kid in the pool with Discover Scuba for only $ 50.00. Bring a underwater camera to take photos of your kid while they are blowing bubbles. This will be offered on Aqua Mission 5 only (session 3).
Seal Team program and Specialty Aqua Missions will require 2 kids per program to be conducted.  
| | |
| --- | --- |
| Seal Team for kids 8 years old and above. - $ 199.00 | |
Aqua Missions - $ 50.00 Each.
Must have completed the Seal Team Program.